60 years Ago: BEATLES AT SEASIDE RESORT
The Beatles spent the week of July 22, 1963, at the seaside resort of Weston-super-Mare, located on the Bristol Channel in the county of Somerset. Of course, it was not all fun and games for the boys. From Monday, July 22, through Saturday, July 27, the group played nightly concerts at the town's Odeon Cinema. In addition, the group took part in photo sessions. The most famous pictures from the week included the group dressed in Victorian bathing suits. They were also photographed driving go karts.
On Sunday, the Beatles left England's western side and headed for Great Yarmouth, a coastal town located at the mouth of the River Yare on the country's eastern side. The group played an evening concert at the city's ABC Cinema.
In honor of the relatively relaxing week spent by the group, today's trivia question is relatively easy.
Who was the photographer who took the famous pictures of the Beatles in Victorian bathing suits?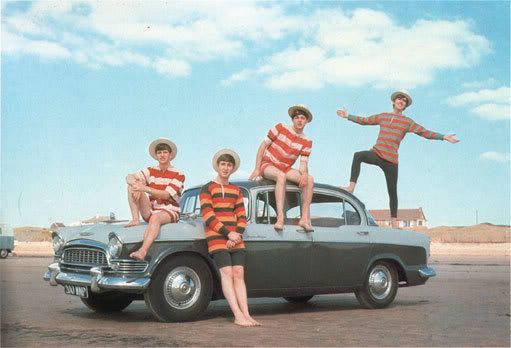 The pictures of the Beatles in Victorian bathing suits were taken by Dezo Hoffmann.